Yuzu Rich Sauce
Coming from Oita Prefecture,
Hita City
, located in the center of northern Kyushu, will be presenting an array of tasty bottled specialities made with local ingredients at the
Soul Food Festival
. Hita City itself is famous for its mountainous landscape, flowing rivers, cedar forest, romantic fog, the annual Gion Festival and the Sapporo beer factory, making it a popular tourist attraction.
Here are the local products that Hita City will be offering:
Yuzu Rich sauce by Kawazu House
. This pungent liquidy sauce is similar to
yuzukosho
but milder and sweeter with a vinegar base. A versatile spice, Yuzu Rich is made with a perfect balance of quality ground yuzu, green hot pepper, and salt. It can be used as a dressing for salads, meat marinades, hot dog topping, cracker dip, you name it. Yuzu Rich also goes great with mayo, which brings out hidden flavors of the sauce.
Yuzu Honey (yuzu hachimitsu) by Tennensouko
. Yuzu Honey is a marmalade-like jelly used to make yuzu tea. To make the tea, just spoon some in your cup, add hot water, and stir. It's a comforting cold-weather drink, and Oita Prefecture has perfected yuzu tea due to its long cold season. Rich in vitamin C, Yuzu Honey has a fragrant scent, with a sour/bitter taste of yuzu and the sweetness of purified honey. It can also be mixed with shochu or yogurt and used as a jam!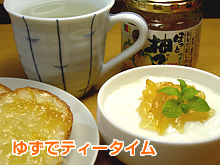 Yuzu Honey

Kona Wasabi by Tennensouko
. Farmed from the mountains of Maetsue Village in Hita, this wasabi has a unique spicy flavor. After it's harvested, it's immediately processed and shipped for the freshest quality. Tennensouko's Kona Wasabi is the real thing, unlike the pasty blend of horseradish, mustard, and green coloring that is often found in some sushi places. The flavor is thus more authentic and you'll benefit from the health benefits of wasabi, which has antimicrobial properties and antioxidants and aids detoxification.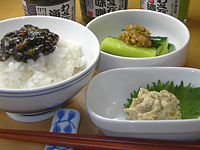 Kona Wasabi
Other local sauces and condiments Hita City will have are:
Yuzu Ponzu (a sauce made by simmering mirin, rice vinegar, katsuobushi flakes, seaweed, and yuzu over medium heat)
Hita Nashi Vinegar
Tsubu Yuzu Pepper
Ayu fish Sauce (made with ayu fish caught in the Mikuma River)
Kinu (soy sauce combined with ayu fish sauce)
Ume Kichi (ume salad dressing)
Hita City will also be selling
geta
and bamboo utensils made traditionally for centuries from wood from its cedar forests.